Feature Packed Design
Heavy-duty hoist machine fitted with self-aligning ball bearings.
Fully automatic brake
Engineered metal guide rails
Precision molded bearing quality guide shoes
Simplistic design
Time-saving installation features
Complies with ANSI Safety Code for Dumbwaiters
Ecologically sound
Residential Applications
Seasonal Storage Transfer
Grocery transfer
Laundry transfer
Prepared food transfer
Commercial Applications
Food transfer
Transfer goods from storage to store
Transfer documents between departments
Prepared food transfer
Hand Operated Dumbwaiter Specifications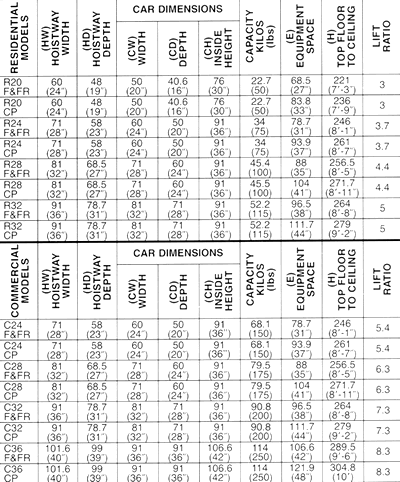 *ALL DIMENSIONS ARE FINISH (TOP NUMBERS ARE METRIC)
TO SPECIFY: The dumbwaiter contractor shall furnish and install a manually operated traction type dumbwaiter Model manufactured by Miller Manufacturing, Inc Dumbwaiter shall have a lifting capacity of pounds Dumbwaiter shall have stops, with openings located on the (front) (front/rear) (front/right or left side) of hoistway Total dumbwaiter travel shall be feet inches.
CAR:
Car shall have dimensions of wide, deep, high, and shall have adjustable shelves. Car construction shall be:
Hardwood veneer
Laminated Plastic
Carbon steel prime painted finish
Stainless steel
MACHINE:
Shall have heavy steel support frames held rigidly in place by cold roll steel tie rods. Hoist machine shall be fitted with self-aligning ball bearings for all rotating shafts. Shall be furnished with a fully automatic setting brake mechanism. Brake mechanism shall be adjustable. Brake components shall be precision machined gray iron and aluminum bronze Machine shall have ample strength capable of supporting the car with rated load and the counterweight. The traction sheave shall be heavy cast gray iron, with machined groove(s) properly designed to promote good traction and long cable life.
COUNTERWEIGHT:
Shall be constructed from mild steel and adjustable Shall be the proper weight 10 minimize the amount of effort required to operate dumbwaiter with the rated load.
CABLES/HAND ROPE:
Commercial dumbwaiter hoistosbleshallbeaircraftcable3/8-6x37fibercore, with an ultimate breaking strength of 6,650 pounds Residential dumbwaiter hoist cable shall be galvanized aircraft cable 3/16″ 7 x 19 with an ultimate breaking strength of 4200 pounds. Hand rope shall be soft woven white polyester 3/4~ in diameter with a swivel connector
GUIDE RAILS:
Shall be 1/4″ extruded 6063-TS aluminum shape guiding both car and counterweight Guide rails shall be located on one side of car Suitable splice brackets and installation screws shall be provided for mounting the guide rails securely to hoistway wall
GUIDE SHOES FOR CAR AND COUNTERWEIGHT:
Shall be injected molded ACETAL COPOLYMER for high strength with minimal friction and wear properties Guide shoe shall be rigidly mounted and properly aligned to receive guide rails
WORK BY OTHERS:
Machine access and ho stway entrance doors Finished hoistway constructed in accordance with building codes. Proper fastening points for machine supports and guide rails.
WARRANTY:
Limited Five Year Warranty included